Improving Lives, One Person and One Smile at a Time
The best thing about dentistry is the ability to change the way people feel about themselves and, in doing so, improve their quality of life.
As a dentist:
I can help a person who is reluctant to smile, removing their hesitation and helping them feel comfortable with their teeth, so they have confidence to smile broadly and freely.
I can help a person who is in pain, swiftly and effectively alleviating the issue and getting them back to enjoying life.
I can help a person needing restorative care, establishing stability and function so they are able to enjoy the foods they love and feel confident in their appearance.
I can learn about a person's dental and personal concerns and work with them to find the care approach that gives them the results they desire.
Being a dentist is my way of serving others. By finding solutions to meet the individual's short- and long-term dental health needs, I help them to lead a healthier, happier life. I truly cannot imagine a more personally or professionally rewarding career.
Education
Before practicing dentistry, I attended the University of Missouri, Columbia, where I completed a Bachelor of Arts in Biology. Next came Creighton University, where I was awarded a Bachelor of Science in Nursing (BSN). This was followed by my Doctorate of Dental Surgery (DDS), at the University of Missouri, Kansas City.
Since finishing dental school, I have actively sought out numerous post-doctoral continuing education courses. Dentistry is a constantly advancing field, with ongoing research leading to new methodologies, materials, and technologies.
By staying current on the latest information, I constantly broaden my skillset and provide patients with the widest selection of safe, comfortable, proven treatment options.
Beyond the Practice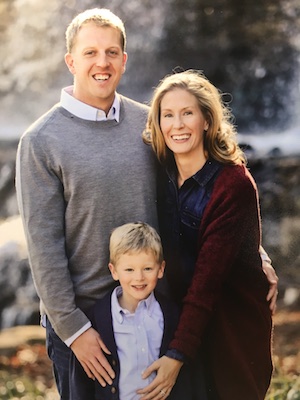 If I'm not seeing patients, or studying about a new dental process, chances are I'm with my husband, Brian, and our child, Beckett.
We live in my hometown of Ottawa, with our dog and cat, and are currently renovating our house. As you might imagine, the process is a major investment of time and energy, but we love working together to make the house into our home!